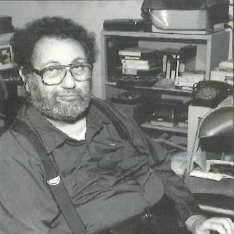 Martin Figoten
Following graduation from CSU San Luis Obispo, Martin went to work for North America Aviation, which later became Rockwell International. He retired after 25 years as an aviation engineer. His deep interest in photography and videography led him to a second career as director, cameraman and technical director on local cable shows. He passed away in 2000.
Martin strongly believed in education. His scholarship was funded by a bequest and a charitable remainder unitrust that provided him with lifetime income, before his passing. His legacy will provide permanent scholarship opportunities for students in the arts, engineering and education.
Mr. Figoten was motivated to give to the College of the Arts because of his love for the arts and his desire to see his money go to a place where it would accomplish something wonderful.
The College of Education (CED) expresses gratitude to all scholarship donors who continue to enhance the quality of education students experience at CSULB.
Impact
In 2016-17 six College of the Arts recipients received scholarships for $3,400 each.
Scholarships
Martin Figoten Endowed Scholarship
Martin Figoten Memorial Scholarship
Martin Figoten Performing Arts Scholarship
Martin Figoten Scholarship