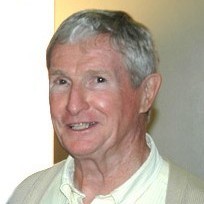 Dr. Robert Kapche
The Robert Kapche Outstanding Student Scholarship Award was established to honor a beloved member of the Psychology faculty. After receiving his doctoral degree in Clinical Psychology from Northwestern University, Dr. Robert Kapche joined the CSULB Psychology faculty in 1966. He was a beloved and popular faculty member known for his quick wit and endearing grin. Chief among his research interests was the investigation of self-management, behavior therapy, and therapy evaluation. He frequently taught courses in Research Methods, Personality, Abnormal Psychology, and Fieldwork. Dr. Kapche had a reputation as a strong servant to the Department, College, and University.
Dr. Kapche was exceptionally well-read, not only in psychology, but in history as well. He went out of his way to share this knowledge with students, seeking means to maximize their interest and understanding (such as with "Sniffy", the electronic lab rat). He was always available to students and colleagues alike, offering more than his fair share of time, effort, and expense. He is missed for all these reasons, as well as his wry humor and the spark of laughter in his eyes. Dr. Kapche retired as Professor in 2004, but continued teaching until 2008.
The Robert Kapche Outstanding Student Scholarship is awarded to CSULB Psychology students in the first semester of their senior year who demonstrate an outstanding contribution to students through service. This scholarship was established in 2013 through a generous contribution by John and Phyllis Jung.