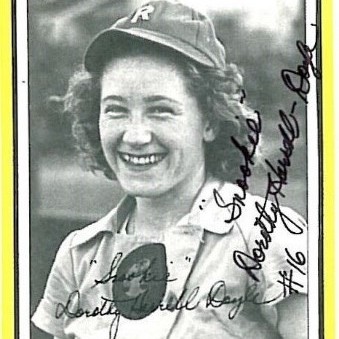 Dorothy "Snookie" H. Doyle
Dorothy was in a "league of her own." Born and raised in Los Angeles, she played softball in an organized amateur league from 1937-1942. During World War II, she played at National Military Home. She traveled to Japan in 1938 with an all-star team and was selected as an All-Star shortstop several times. From 1944 to 1950, and again in 1952, Dorothy played shortstop with the Rockford Peaches in the All American Girls' Professional Baseball League. The team was memorialized in the Hollywood film, "A League of Their Own" in 1992.

At the end of the season in 1952, Dorothy returned to school. She graduated from CSULB in 1958 with a BA in Physical Education and a minor in health. She began teaching in the Compton Unified School District, retiring in June 1984 after teaching physical education and math, then moving into counseling. She ultimately became head counselor of her school. In 2008, Dorothy created a planned gift at CSULB that provided her life income. When she passed in 2011 the remainder of her gift created a scholarship to support undergraduate students majoring in Kinesiology with the goal of teaching in public schools.
Impact
The Dorothy Doyle Scholarship is available to students majoring in Kinesiology with a focus on obtaining a teaching credential. Candidates must demonstrate financial need, scholastic achievement and leadership ability.