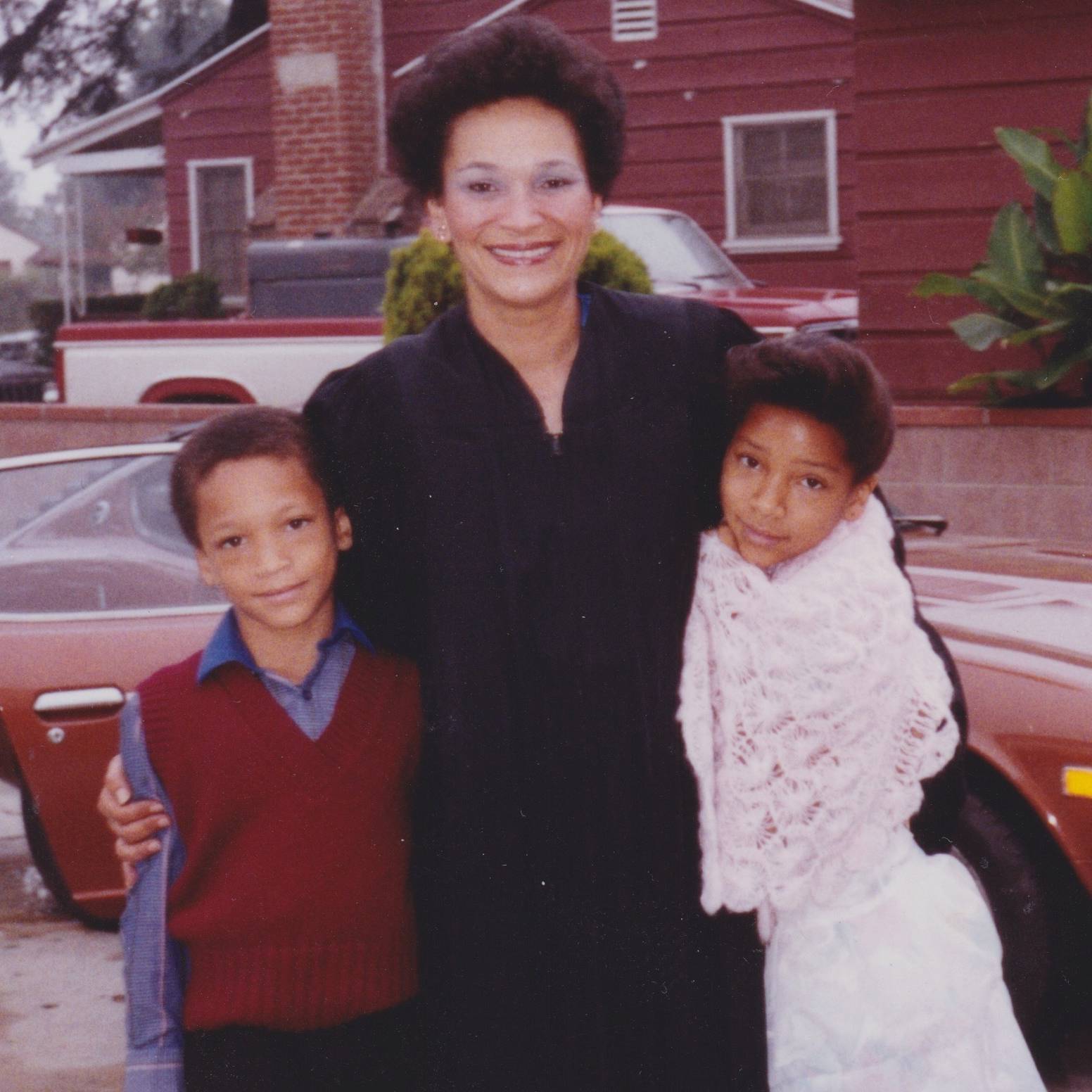 Diana Karady and Jacob R. Blake
Diana Karady (1952 – 2016), who was affectionately known as Barbara, was a California native and single mother of two. When her children (future CSULB alumni) were in elementary school, she returned to school to complete her college degree. Through hard work, dedication, and with the love and support of her family, Barbara graduated from Cal Poly Pomona with her bachelor's degree in Behavioral Science when her children were 8 and 9 years old. She went on to serve the public as a battered women's counselor, a cause near and dear to her heart, and later became the Executive Administrator for a local mutual water company. Barbara's work ethic and perseverance were an inspiration to her children, whom she taught that education was a key to success.

Jacob R. Blake, Barbara's youngest child, is a testament to the wisdom of her words. Jacob was the 1999 valedictorian of Rio Hondo Preparatory School in Arcadia, California. He was then awarded the elite distinction of being chosen to be a CSULB President's Scholar beginning in the 1999-2000 academic year. Jacob used that opportunity to the fullest and became involved in campus life, including becoming a member of the Delta Chi Fraternity and serving as its treasurer.

Jacob's passion for improving the lives and being a positive example for others led him to a career in education. In 2003, Jacob graduated with his bachelor's degree in Human Development and in 2005 he obtained a multiple subject teaching credential. Jacob began his teaching career in Long Beach, California, focusing his talents to benefit underserved youth. He later continued his career in the Sacramento area. Jacob is now a well-respected Project Lead the Way (PLTW) Gateway teacher guiding 6th, 7th, and 8th grade students in the areas of robotics, energy and the environment, and design and modeling. In 2020, he was recognized as one of only 20 PLTW teachers nationwide to be named an Outstanding Teacher for Gateway. Jacob has a servant's heart, feels passionately about social justice issues, and is a role model to his students.

The College of Education (CED) expresses gratitude to all scholarship donors who continue to enhance the quality of education students experience at CSULB.
Impact
It was with pride and admiration that the Diana Karady Memorial Scholarship in honor of Jacob R. Blake was established by Jacob's sister, Bari Wood (CSULB B.S. 2002), in his honor, and in their mother's memory. The Scholarship is intended for individuals who are heads of one-parent households, with a preference for multiple subject credential program (MSCP) students who plan to teach in underserved communities.


Scholarship
The Diana Karady Memorial Scholarship in honor of Jacob R. Blake